Oketz Citations
In addition to the typical unit level and operator level citations, Oketz also has a third type - a medal for dogs which distinguished themselves in the line of duty.
Oketz dog medal.
An Oketz dog receives a medal for exceptional combat performance from Yiftah Ron-Tal, the then Commander of the IDF Ground Forces Command (photo: IDF).
An Oketz operator citation.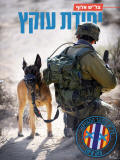 Oketz unit citation for exceptional performance during the 2014 Operation Protective Edge (photo: IDF).