Israeli Special Forces Defense Contractors Guide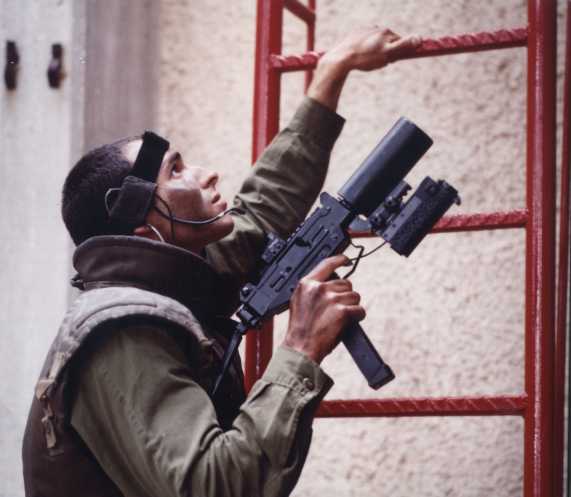 While a small country in both size and population, Israel has a vast defense industry, manufacturing a wide variety of products, from small arms and tactical textile gear to advanced ground and air platforms. Furthermoe, many Israeli made products feature a unique combination of innovation and affordability.

The following guide features key Israeli defense contractors, which supply the Israeli Special Forces with weapons and gear, as well as links to the specific isayeret pages dedicated to specific products.

ACS

ACS is a manufacturer of innovative pouches used for the safe carry and fast deployment of grenades.

Azimuth

N

ow part of Elbit,

Azimuth was a manufacturer of electro-optical gear, known for ATLAS, the standard stabilization platform for many Israeli target acquisition systems.

Agilite

Agilite and

Marom Dolphin

are Israel's leading manufactures of

tactical textile

, specializing in vests and plate carriers. From the 1980's to mid-2000's this space was dominated by KATA, which

was formed in the early 1980's by former IDF SF operators. KATA made significant contributions to the design of the renown Israeli reconnaissance vest, and served as the supplier of choice for to Israeli SF units. However,

i

n 2005

KATA was bought by Vitec, discontinued its defense product lines and shifted focus to professional camera bags. In KATA's absence, Marom Dolphin and later Agilite became Israel's leading tactical textile manufacturers. Source is another major Israeli

manufacturer

, primarily of backpacks and hydration systems.

Camero

A SK subsidiary, Camero is a manufacturer of see-through-walls radar imaging solutions, which are used for a variety of tactical as well as search and rescue applications.

CAA

CAA, FAB and TDi are Israel's leading

manufacturers of weapon accessories.

Collectively, they

manufacturer

most of the weapon accessories used in Israel, including stocks, pistol grips, forward grips and rail systems.

Defense Industries International (DFNS)

A group of privately owned small defense companies, specializing in tactical textile and ballistic protection. The group comprised of Achidatex, Export Erez and Rabintex.

Elbit

Elbit s Israel's largest privately owned defense contractor. Thorough organic growth and multiple acquisitions (including El-Op, Tadiran Communication, Azimuth and ITL), Elbit has become a major player in both domestic and foreign defense markets. The company manufactures a wide variety of high-end products, from command, control, communications and computers to UAV and weapon systems. The company had many leading innovations in SF related products, including the Sniper Synchronization System (Sincrofire) and one of the first red dot sights (Falcon). The company is also the primary integrator of the IDF Future Soldier program.

See CAA.

Fibrotex is the primary provider camouflage solutions to the IDF.

Fobus, Front Line and IMI Defense are Israel's leading manufacturers of holsters.

See Fobus.

Hydro-Noa

Hydro-Noa and SAN are Israel's leading manufacturers of tactical breaching and rescue tools.

Israeli Weapon Industries (IWI)

As part of IMI privatization, its small arms division was sold to the SK Group and rebranded as IWI. The company still manufactures most of IMI legacy products including Uzi, Negev, Galil and Jericho, but is focused on its flagship product - the Tavor. In recent years IWI also modernized most of IWI legacy products.

Israeli Military Industries (IMI)

A government owned contractor, IMI is known by its former small arms division (now IWI). IMI manufactures a wide variety of defense products from compensators and sound suppressors to small arms ammunition and advanced rockets and missiles. The company also makes the smart munitions which are part of the IDF Future Soldier program.

IMI Defense

See Fobus.

International Technology Lasers (ITL)

N

ow part of Elbit,

ITL was a leading manufacturer of electro-optical devices, offering a wide range of products from range finders to aiming devices. During the 1980's and the 1990's ITL was the primary provider of laser pointers to the IDF..

KATA

See Agilite.

Marom Dolphin

See Agilite.

Meprolight

A SK

subsidiary

, Meprolight is Israel's leading manufacturer of tactical electro-optical gear, including sights, night vision and CID. In recent years, Meprolight acquired Pulse Inteco and New Noga Light.

New Noga Light

See Meprolight.

NVISOL

A Marom Dolphin subsidiary, NVISOL is small manufacturer that specializes in tactical video documentation accessories, typically combining commercial off the shelf products with a ruggedized military grade packaging.

ODF Optronics

ODF was a manufacturer of tactical intelligence gathering solutions, which allowed operators to safely and remotely view and assess the situation inside buildings, caves, tunnels and other hard to reach locations. The company is now closed.

Pulse Inteco

See Meprolight.

A large government owned defense contractor, RAFAEL manufactures a wide variety of advanced products from missiles to avionics systems.

Roboteam

Roboteam is Israel's leading manufacturer of UGV.

SAN

See Hydro-Noa.

Samy Katsav (SK) Group

A group of privately owned defense contractor, including IWI, Meprolight and Camero.

Source

See Agilite.

Source of Sound

A subsidiary of the U.S.-based Silynx, Source of Sound (SOS) is the primary provider of tactical communication gear to the IDF.

Tadiran

An Elbit subsidiary, Tadiran is the primary provider of communication and radio devices to the IDF.

TAR Ideal

TAR Ideal is a major importer of various tactical gear to Israel. In recent years, the company began to design and manufacturer its own tactical gear.

TDi

See CAA.

Zikitec

Zikitec is a small manufacturer specializing in sniping-related gear. Some of the company gear is manufactured and distributed in partnership with larger Israeli contractors such as FAB and Marom Dolphin.